A10 Mk.I
British Cruiser Tank
Unassembled plastic model kit in 1/72 scale of a British WWII cruiser tank A10 Mk.I (Tank, Cruiser, Mk II), developed as a heavier, infantry tank version, of the A9 tank. Some units were used with the British expeditionary force in France 1940, and during the African campaign, till 1941, proving a quite bad performance. The main armament was a QF 2-pounder (40mm gun) and a coaxial .303 Vickers machine gun.
New tool, 2022 release of the The World At War series which includes the model plus a small magazine. Kit doesn't includes PE parts. Decal sheet includes two markings.
Mercato
Questo sito contiene link di affiliazione ai prodotti. Potremmo ricevere una commissione per gli acquisti effettuati attraverso questi link.
IBG Models The World At War WAW015
See on Hannants »
Da: United Kingdom
Seller: Hannants
Stock: InStock
Pubblicazioni Linee Guida/Modelli IBG 1/72 (20mm) Serbatoio Cruiser A10 Mk I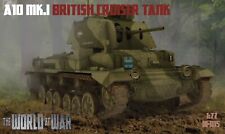 See on Ebay »
Shipping to: Italy
Da: United Kingdom
Seller: qball2510
100.0% Positive votes
The World At War W-015 A10 Mk.i British Incrociatore Serbatoio Scala 1/72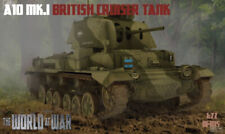 See on Ebay »
Shipping to: Italy
Da: Poland
Seller: fieofanowicz1971
99.4% Positive votes
*Le informazioni sul prezzo e sulla spedizione potrebbero essere cambiate dall'ultimo aggiornamento e possono essere applicate altre condizioni.
Controlla sul sito del partner prima dell'acquisto.