Russian Battle Tank T-90
The T-90 is the most up-to-date battle tank in the Russian army. The 125 mm smooth bore cannon fires classical types of ammunition as well as guided missiles. The T-90 which has been produced since about 1995 is a radical development based on the T-72. The low profile, reactive armour type Kontakt-5 and automatic protection system TShU-1 Schtora-1 provide higher protection. The latter should fool oncoming guided missiles. The powerful 735 kW (1000 hp) 12-cylinder Diesel engine gives the T-90 high manoeuvrability. In addition to the Russian army India also uses the T-90.
– New model tool
– Optional T-90, T90K or T90S
– Fine surface details
– Two-piece track which bends
– Smoke grenade discharger
– Authentic 12.7 mm NSV MG
– Reactive armour
– TSchU-1 Schtora-1
– Rotating turret
– Hatches can be shown open
Decals for 3 vehicles:
– T-90K, Russian Armed Forces, 2011
– T-90S, Indian Armed Forces, 2004
– T-90, Russian Armed Forces, 2005
Mercato
Questo sito contiene link di affiliazione ai prodotti. Potremmo ricevere una commissione per gli acquisti effettuati attraverso questi link.
REVELL 1/72 1/76 VEICOLO MILITARE CARRO ARMATO NUOVO Kit di Modello in Plastica 1 72 1 76 MR Models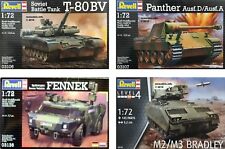 See on Ebay »
Shipping to: Italy
Da: United Kingdom
Seller: mrmodelsinfo
99.7% Positive votes
*Le informazioni sul prezzo e sulla spedizione potrebbero essere cambiate dall'ultimo aggiornamento e possono essere applicate altre condizioni.
Controlla sul sito del partner prima dell'acquisto.