Airspeed Envoy Lynx engine
Pilot and eight-passenger enlarged and twin-engined development of the AS.5 Courier. First flown on 26 June 1934. About 50 built by Airspeed for British, Japanese, Czechoslovakian, Chinese and South African civil operators, plus a small number for the South African Air Force and the RAF (SAAF Envoys carrying bombs and one forward-firing and one dorsal-turreted machine-gun). Mitsubishi also built a number under licence. Engines fitted to Envoys included the Wolseley AR.9, Scorpio I or Aries III, Armstrong Siddeley Lynx IVC or Cheetah IX, Wright Whirlwind R.760 and Walter Castor II.
MARKETPLACE
You are currently browsing offers for
United States. Choose your country from location/language menu to get proper results for you. If your country is not in the list try default EN-U.S. or try the closest location if any.
This site contains affiliate links to products. We may receive a commission for purchases made through these links.
Airspeed Envoy - Lynx IV C
See on Hlj.com »
From: JP
Seller: Hlj.com
Stock: In Stock
Rs Models Rsmo92102 Airspeed Envoy Lynx engine 1/72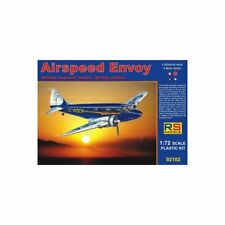 See on Ebay »
Shipping to: US
From: FR
Seller: cocktaildistribution2
99.7% Positive votes
*Information on price and shipping may have changed since our last update as well as other conditions can apply.
Check on partner site before buy.