Japanese Battleship Super Yamato 51cm Gun Main Turret No.1
Unassembled plastic model kit in 1/72 scale of a Japanese WWII Design A-150 battleship (Super Yamato class) main turret, fitted with two 51cm guns.
The Super Yamato was a project that never was realized, only design phase, its main armament should have been three twin turrets of 51cm guns. Plans and design of the Super Yamato class were destroyed before the end of the war, and design of this kit is just based on conjectures, or fictional.
Kit includes PE parts.
Markt
Deze site bevat affiliatie links naar producten. We kunnen een commissie ontvangen voor aankopen die via deze links zijn gedaan.
1/72 Japanese Battleship Super Yamato 51cm Gun Main Turret No. 1
See on Hlj.com »
Van: Japan
Verkoper: Hlj.com
Stock: In Stock
Takom 1/72 Battleship Super Yamato 51cm gun main turret No.1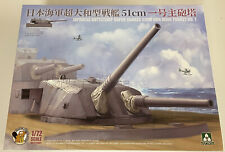 Zie op Ebay.nl »
Verzending naar: Netherlands
Van: Canada
Verkoper: supernova_100
100.0% Positieve stemmen
*Informatie over prijs en verzending kan zijn gewijzigd sinds onze laatste update en andere voorwaarden kunnen van toepassing zijn.
Controleer op de partnersite voordat u koopt.