AMX 13 Bi-tubes
Unassembled plastic model kit in 1/72 scale of a French SPAAG (Self propelled anti aircraft gun) AMX-13 DCA 30, build over the chassis of an AMX 13 tank, 60 units were produced of this type in 1969.
Re-using chassis and hull from kit Heller – 198 (79874) – AMX13 105mm, with new parts for a new turret, fitted with two 30mm cannons and a retractable radar.
This kit was released in 1979, the AMX Parts were produced in 1976, they both are original Heller kits. While AMX 13 has been released several times, the DCA 30 SPAAG has not been re-issued never and is a rare to find kit.
With better detail, ACE produced both ACE – 72447 – AMX-13 DCA twin 30mm AA version and ACE – 72445 – AMX-13/75 light tank.
Markt
Deze site bevat affiliatie links naar producten. We kunnen een commissie ontvangen voor aankopen die via deze links zijn gedaan.
Heller 192 AMX 13 Bi-Tubes 1:72 Neu, Bauteile versiegelt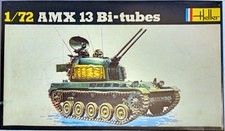 See on Ebay »
Shipping to: Netherlands
From: Germany
Seller: modellbauer-inn
100.0% Positive votes
Heller 1/72 SA 342 M GAZELLE + 2 Mistral (maquette rare sur le marché français)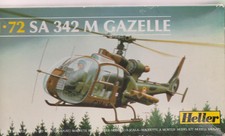 See on Ebay »
Shipping to: Netherlands
From: France
Seller: mohn-grar
100.0% Positive votes
*Informatie over prijs en verzending kan zijn gewijzigd sinds onze laatste update en andere voorwaarden kunnen van toepassing zijn.
Controleer op de partnersite voordat u koopt.