Russian 9A52-2 Smerch-M multiple rocket launcher
of RSZO 9k58 Smerch MRLS
Unassembled plastic model kit in 1/72 scale of a Soviet BM-30 Smerch heavy multiple rocket launcher, a soviet design of the early 80s introduced during the late 80s and remaining in service in several ex-Soviet republics as well as Russia. During the conflict between Russian and Ukraine the Smerch and Smerch-M has seen action in both sides.
BM-30 Smerch fires a load of 12 x 300mm solid-fuelled projectiles, intended to fire over concentration areas. The 9A52-2 uses a variant of the MAZ-543M truck chassis.
Kit consists of over 100 parts, includes rubber tires and decal sheet contains six different markings.
Markt
Deze site bevat affiliatie links naar producten. We kunnen een commissie ontvangen voor aankopen die via deze links zijn gedaan.
Hobby Boss 1/72 Russian 9A52-2 Smerch-M Multiple Rocket Launcher of R HBB82940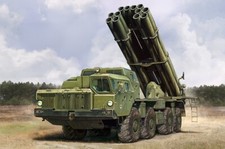 Zie op Ebay.nl »
Verzending naar: Netherlands
Van: United States
Verkoper: hobby-usa
99.7% Positieve stemmen
*Informatie over prijs en verzending kan zijn gewijzigd sinds onze laatste update en andere voorwaarden kunnen van toepassing zijn.
Controleer op de partnersite voordat u koopt.