Battle of Waterloo 1815 – 200 Years anniversary
In the year of the bicentenary Revell bring us a re-pack of some of their suitable for Waterloo 1815 battle figures kits.
The box contains 107 figures, between Prussian and French infantry and British Life Guards cavalry.
Nothing new but you can save some Euro picking these three boxes at once.
Check each kit page for details about their composition.
Rynku
Aktualnie przeglądasz oferty
Poland. Wybierz swój kraj z menu lokalizacji/języka, aby uzyskać odpowiednie wyniki dla Ciebie. Jeśli twój kraj nie znajduje się na liście, spróbuj użyć domyślnie EN-U.S. lub spróbuj najbliższej lokalizacji, jeśli.
Ta strona zawiera linki partnerskie do produktów. Możemy otrzymać prowizję za zakupy dokonane za pośrednictwem tych linków.
Battle of Waterloo (1815) 200th Anniversary Set
See on Hlj.com »
Z: JP
Sprzedawca: Hlj.com
Stock: InStock
02450 1/72 Set Battle of Waterloo 1815 Model Kit 02450 Revell New!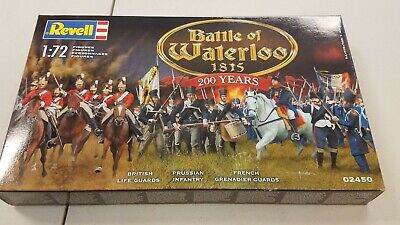 See on Ebay »
Shipping to: Worldwide
From: US-Stany Zjednoczone
Store: Ring Enterprises
*Informacje o cenie i wysyłce mogły ulec zmianie od czasu ostatniej aktualizacji, a także inne warunki mogą mieć zastosowanie.
Sprawdź witrynę partnera przed zakupem.