SYRACUSE ARMY Set 1
Peloponnesian War Sicilian Expedition 415-413 BC
Unpainted plastic soldiers in 1/72 scale depicting Sparta allies during the Peloponnesian War (431–404 BC), a war between Athens and Sparta and their respective allies, which eventually drove to a Spartan hegemony period after Athens defeat, in which the Sicilian Expedition (415–413 BC) had an important role, as the Athenian fleet was mainly destroyed in the event, when Athens attempted to conquest Syracuse, an important Spartan ally. The box contains figures depicting both Syracuse and Corinth hoplites, both Spartan allies. Of the 12 different poses in the box, seven are Syracusan, six Corinthian and one single pose is a Boeotian (Boeotia, Boiotia or Beotia), also under Spartan control at this time, though before was also under the Athenian influence. Though there are differences between them all, basically the Boeotian can be identified as a Theban, Corinthian are pretty much as you can expect of Greek hoplites and Syracusan are the more different ones and reminds of other early Italian reigns.
Box contains 48 foot figures in 12 different poses, a four equal sprue format. As expected most of the poses are spearman (hoplites), nine, followed by 3 swordsman poses.
MARKETPLACE
This site contains affiliate links to products. We may receive a commission for purchases made through these links.
Linear-A LA051
See on Hannants »
From: United Kingdom
Seller: Hannants
Stock: InStock
Linear-A 1/72 Peloponnesian War, Sicilian Expedition 415-413 BC Set 1 The Army of Syracuse infantry # 051
See on eModels »
From: United Kingdom
Seller: eModels
Stock: In Stock
Linear-A - 051 - Peloponnesian War, Sicilian Expedition 415-413 BC - 1:72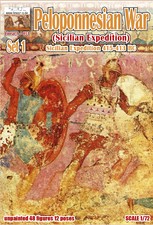 See on Ebay »
Shipping to: United States
From: Italy
Seller: corradovalentini_68
95.5% Positive votes
*Information on price and shipping may have changed since our last update as well as other conditions can apply.
Check on partner site before buy.