French Gardes du Corps
Spanish War of succession
Unpainted plastic soldiers in 1/72 scale depicting French Gardes du Corps (Life Guards) during the war of the Spanish Succession (1701–1714) a major conflict which involved all western European powers of the time.
In difference to other French elite units of the period, the Gardes du Corps was an exclusively aristocratic corps where even rank and file were drawn from families with appropriate social backgrounds. These units had not a proper training and so they were noted for their courtly manners but not so much by their military skills.
The uniforms presented here match for an early period of the war, as they are similar to uniforms dated around the end of the previous century.
Box contains twelve mounted figures in twelve different poses, including some common poses such a trumpeter or banner carrier and an officer carrying a baton rather than a weapon. There is a majority of sabers but one pose/figure has a pistol and another one a carbine. All the poses suggest action, like a charge. Horses are in six different poses, equally in action between jogging and galloping.
MARKETPLACE
This site contains affiliate links to products. We may receive a commission for purchases made through these links.
Strelets STR24072
See on Hannants »
From: United Kingdom
Seller: Hannants
Stock: PreOrder
New 1:72 Strelets #240 Spain War of Succession France Guard Corps Cavalry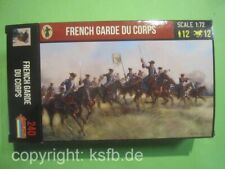 See on Ebay »
Shipping to: United States
From: Germany
Seller: kunststoffboerse-2020
100.0% Positive votes
1:72 FIGURES 240 FRENCH GARDE DU CORPS-STRELETS NEW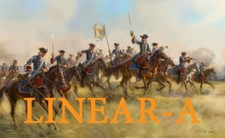 See on Ebay »
Shipping to: United States
From: Germany
Seller: linear-ashop
99.5% Positive votes
*Information on price and shipping may have changed since our last update as well as other conditions can apply.
Check on partner site before buy.