Union Infantry – Irish Brigade
American Civil War
Unpainted plastic soldiers in 1/72 scale of Union Infantry during the American Civil War, in particular depicting the so called Irish Brigade, of course mainly composed of Irish migrants. They battle cry was "Faugh a Ballaugh" (clear the way). It grouped up to 5 regiments, and was the Union brigade with more casualties of all the American Civil War.
For a long part of the war several of their line companies in some regiments had old smoothbore muskets (Model 1842 smoothbore), to be able to fire a short of canisters with several balls (buck-and-ball shot), which had a deadly effect in close ranges. By the pictures below we don't know if such weapon has been issued in these figures.
Box contains 34 figures in 14 poses, in a composition of 3 equal sprues with 10 figures each (in 10 poses) plus a command sprue with 4 figures in 4 poses. Poses are a mix of fire line, marching and charging (and a killed soldiers), which makes it more difficult for gamers.
MARKETPLACE
You are currently browsing offers for
United States. Choose your country from location/language menu to get proper results for you. If your country is not in the list try default EN-U.S. or try the closest location if any.
This site contains affiliate links to products. We may receive a commission for purchases made through these links.
Ultima Ratio UR7214
See on Hannants »
From: GB
Seller: Hannants
Stock: PreOrder
1:72 FIGUREN UR014 AMERICAN CIVIL WAR UNION INFANTRY ULTIMA RATIO NEU RAR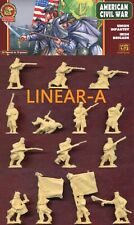 See on Ebay »
Shipping to: US
From: DE
Seller: linear-ashop
99.3% Positive votes
Union Infantry Irish Brigade (American Civil War)
See on Hlj.com »
From: JP
Seller: Hlj.com
Stock: Preorder
*Information on price and shipping may have changed since our last update as well as other conditions can apply.
Check on partner site before buy.