Avia Bk.534
The Avia Bk-534 was to be a cannon armed version of the B-534 with a license manufactured Hispano-Suiza HS-12Ycrs with the cannon barrel through the hollow airscrew reduction gear shaft. In 1937, fifty of the Bk-534 was ordered, with a supplemental order for further four machines issued shortly afterwards (s/n Bk-534.501 to Bk-534.554). Further 66 (s/n Bk-534.555 to Bk-534.620) were ordered shortly before the Munich crisis.
Teething troubles with the cannon armament were not solved by the time the production of the first batch was begun in late summer 1938 and so a third 7.92mm machine gun was installed instead. The same was repeated when production of the second batch was started early in 1939. As a result, the Bk-534 was the weaker-armed instead of being the more powerfully armed variety of the original fighter.
More Avia Bk-534's were made for the Nazi Luftwaffe than for the Czechoslovak Air Force. With the exception of the three first machines, the Bk-534's from the second batch procured were taken over by the German occupants.
MARKETPLACE
This site contains affiliate links to products. We may receive a commission for purchases made through these links.
1/72 Avia Bk-534
See on Hlj.com »
From: Japan
Seller: Hlj.com
Stock: Discontinued
Avia Bk-534, RS Models 1:72 (92065) Plastic Model Making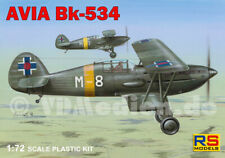 See on Ebay »
Shipping to: United States
From: Germany
Seller: auction-heinz
100.0% Positive votes
NEW RS Models 1/72 92065 Avia Bk-534 Military Airplane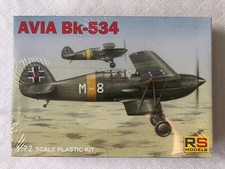 See on Ebay »
Shipping to: United States
From: United States
Seller: miketh5855
100.0% Positive votes
*Information on price and shipping may have changed since our last update as well as other conditions can apply.
Check on partner site before buy.