MBR-04 Mk-VI Destroid Tomahawk
This is an 1/72 scale model kit based on the Anime series Macross, MBR-04 Mk-VI Destroid Tomahawk.
A highly-detailed snap-together kit that can be assembled without glue. Plastic parts are pre-coloured allowing a basic finish without need paint. Note that the sample below is fully painted and weathered by a professional painter.
MARKTPLATZ
Diese Website enthält Affiliate-Links zu Produkten. Wir erhalten möglicherweise eine Provision für Einkäufe, die über diese Links getätigt werden.
1/72 MBR-04 Mk-VI Destroid Tomahawk (Restocking in May 2019)
See on Hlj.com »
Von: Japan
Verkäufer: Hlj.com
Stock: Discontinued
Wave 1/72 mbr-04 - MKVI Destroid Tomahawk mc-71 Super Dimension Fortress Macross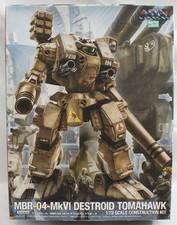 See on Ebay »
Shipping to: Germany
From: Japan
Seller: makino66
100.0% Positive votes
* Informationen zu Preis und Versand haben sich möglicherweise seit unserem letzten Update geändert, und es können andere Bedingungen gelten.
Überprüfen Sie vor dem Kauf auf der Partnerseite.