Siege Tower
Unassembled plastic model kit in 1/72 scale of an ancient siege tower, up to early medieval. Tower stands two floors, front is covered by skins, moulded into the parts. The ramp can be lifted.
MARKTPLATZ
Diese Website enthält Affiliate-Links zu Produkten. Wir erhalten möglicherweise eine Provision für Einkäufe, die über diese Links getätigt werden.
Antike Belagerungsturm-gebaut-Zvezda - 1/72nd - 20mm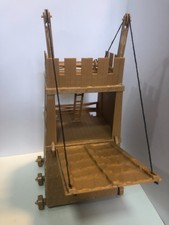 See on Ebay »
Shipping to: Germany
From: United Kingdom
Seller: nannyogg999
99.7% Positive votes
* Informationen zu Preis und Versand haben sich möglicherweise seit unserem letzten Update geändert, und es können andere Bedingungen gelten.
Überprüfen Sie vor dem Kauf auf der Partnerseite.