DC-8/50
Iberia (IBA)
Unassembled plastic model kit in 1/72 scale of a U.S. Douglas DC-8 long-range narrow-body airliner introduced in the late 50s still in limited service. Produced till 70s over 500 units were built and operated around the world.
Kit provides specific decals for Spanish Iberia airline.
Dimensions: ~ 63.8cm long, 60.3cm wingspan
MARKTPLATZ
Diese Website enthält Affiliate-Links zu Produkten. Wir erhalten möglicherweise eine Provision für Einkäufe, die über diese Links getätigt werden.
Mach 2 GP110IBA
See on Hannants »
Von: United Kingdom
Verkäufer: Hannants
Stock: InStock
1/72 DC-8/50 IBA
See on Hlj.com »
Von: Japan
Verkäufer: Hlj.com
Stock: Out of Stock
Mach 2 Modelle 1/72 Douglas dc-8/50 Iberia Airlines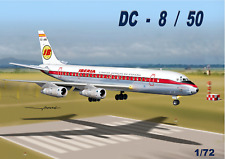 See on Ebay »
Shipping to: Germany
From: United States
Seller: rebelalpha
100.0% Positive votes
* Informationen zu Preis und Versand haben sich möglicherweise seit unserem letzten Update geändert, und es können andere Bedingungen gelten.
Überprüfen Sie vor dem Kauf auf der Partnerseite.