Thirty Years War: Musketeers of the military household of the King of France.
32 figures in 8 poses. (OLD VERSION)
**Seems this kit has been reworked changing its content.

New version contains 24 figures in 16 different poses. There are 8 new poses, which come in 2 equal sprues, plus the 8 original poses, which only come in 1 sprue.
Only way to differentiate new box from the old one is pay attention to the figures + poses numbers in the front box.
Sculpture level is very good and nice, as is the mould which in our purchased sample has no produced flash either mould lines, i think we like a lot. Despite of its good detail, it's quite soft (realistic maybe, but harder to paint), and the multipart in the musket firing poses (2) has avoided any kind of plastic excess as usually happen in this kind of poses. The figures are bit flat when you see them from side, something that it's not noticeable from other angles.
The new sprue added in the second version, added some generic musketeer troops, while the original one keeps enough characters, since you get all the three musketeers, D'artagnan and Constance, while three figures remain as harder to identify or assign. Detail of the original sprue, it's a bit more crispy than the new added sprue.
In our purchased sample a new code was assigned to the box, as 7112.
MARKTPLATZ
Diese Website enthält Affiliate-Links zu Produkten. Wir erhalten möglicherweise eine Provision für Einkäufe, die über diese Links getätigt werden.
Ultima Ratio UR7212 - 1/72 Musketeers of the military hausehold - Neu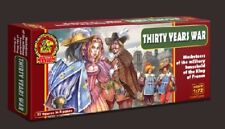 See on Ebay »
Shipping to: Germany
From: Germany
Seller: ms-plueth
99.9% Positive votes
Musketeers of the military hausehold of the King of France · Ultima Ratio · Maßstab 1:72
See on Modellbau Universe »
Von: Germany
Verkäufer: Modellbau Universe
Stock: verfügbar - Lieferzeit 2-6 Werktage
* Informationen zu Preis und Versand haben sich möglicherweise seit unserem letzten Update geändert, und es können andere Bedingungen gelten.
Überprüfen Sie vor dem Kauf auf der Partnerseite.