MIL Mi-8T Live Aid
Unassembled plastic model kit in 1/72 scale of a Soviet Mil Mi-8 (NATO name Hip) transport helicopter introduced in the late 60s and which still remains operative. The type was exported to over 100 different operators, both Civilian and Military.
T version was a civilian and military utility transport version, with accommodation for 24 passengers.
Kit uses Zvezda plastic parts kit, with new decals, which includes 4 different Polish markings, Ethiopia 1985, and Iraq (2003-2006). Kit consists of 150 plastic parts and 13 clear parts.
MARKTPLATZ
Diese Website enthält Affiliate-Links zu Produkten. Wir erhalten möglicherweise eine Provision für Einkäufe, die über diese Links getätigt werden.
Mil mi-8 T "LIVE AID" (Polnische Relief Squadron Äthiopien 1985) #72203 1/72 AKKURA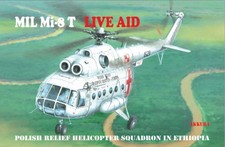 See on Ebay »
Shipping to: Germany
From: Poland
Seller: trinitymews2
99.8% Positive votes
* Informationen zu Preis und Versand haben sich möglicherweise seit unserem letzten Update geändert, und es können andere Bedingungen gelten.
Überprüfen Sie vor dem Kauf auf der Partnerseite.