Soltic H8 Round Facer
Second of the originals releases by Takara in the 80's for the Fang of the Sun Dougram series.
*These old kits are hard to find, and second hand vendors are not very good at entitling the products on Ebay, so be aware of the results below as they can be messed up with other related items.
MARKETPLACE
You are currently browsing offers for
United States. Choose your country from location/language menu to get proper results for you. If your country is not in the list try default EN-U.S. or try the closest location if any.
This site contains affiliate links to products. We may receive a commission for purchases made through these links.
Dougram Fang of the Sun Soltic Round Facer H8 1/72 Model NEW Robotech Defender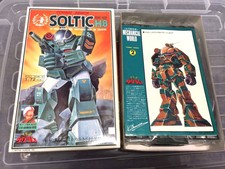 See on Ebay »
Shipping to: US
From: US
Seller: just_your_style
100.0% Positive votes
VINTAGE FANG OF THE SUN SOLTIC ROUND FACER H8 DOUGRAM 1/72 SCALE DUAL MODE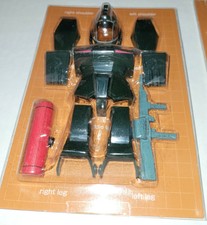 See on Ebay »
Shipping to: US
From: US
Seller: thehulk13acx
100.0% Positive votes
*Information on price and shipping may have changed since our last update as well as other conditions can apply.
Check on partner site before buy.