HANNIBAL CROSSES THE ALPS SET 5
"CELTIC SALASSI / TAURINI TRIBE VS. CARTHAGINIANS"
Unpainted plastic soldiers in 1/72 scale depicting some of the Celtic tribes that Hannibal had to fight in his cross of the Alps, in the road to Rome, around 218 B.C.
Box contains 48 foot figures in 12 different poses, sculpture is very good as well as some of the poses are very dynamic, despite some others are not so much, and they are clearly intended to be fighting in a steep slope, as could had happen in an Alps pass.
MARKETPLACE
You are currently browsing offers for
United States. Choose your country from location/language menu to get proper results for you. If your country is not in the list try default EN-U.S. or try the closest location if any.
This site contains affiliate links to products. We may receive a commission for purchases made through these links.
1:72 FIGUREN 025 HANNIBAL CROSSES THE ALPS SET 5 "CELTIC VS. CARTH. LINEAR-A NEU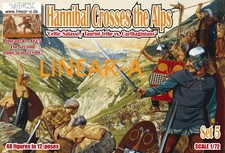 See on Ebay »
Shipping to: US
From: DE
Seller: linear-ashop
99.3% Positive votes
Linear-a #25 Hannibal Crosses the Alps Set 5 Salassi / Taurini Tribe. 1/72 Gauls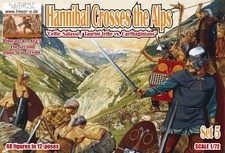 See on Ebay »
Shipping to: US
From: GB
Seller: flagbearer101
100.0% Positive votes
*Information on price and shipping may have changed since our last update as well as other conditions can apply.
Check on partner site before buy.