HELLENISTIC DIADOCHI / EPIGONOI, SELEUCID INFANTRY PHALANX SET 1
"BATTLE OF RAPHIA 217 BC"
Unpainted plastic soldiers in 1/72 scale depicting Seleucid infantry (Phalanx), in the context of the Diadochi wars, happened after Alexander the Great death, fighting for the control of the empire. Seleucids, who ruled Persia, were defeated in the battle of Raphia by Ptolemies who mainly controlled Egypt (Alexandria).
Box contains 24 foot figures in 8 different poses.
MARKETPLACE
You are currently browsing offers for
United States. Choose your country from location/language menu to get proper results for you. If your country is not in the list try default EN-U.S. or try the closest location if any.
This site contains affiliate links to products. We may receive a commission for purchases made through these links.
1:72 FIGUREN 033 HELLENISTIC DIADOCHI/EPIGONOI - SELEUCID INFANTRY LINEAR-A NEU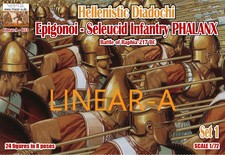 See on Ebay »
Shipping to: US
From: DE
Seller: linear-ashop
99.3% Positive votes
*Information on price and shipping may have changed since our last update as well as other conditions can apply.
Check on partner site before buy.