Arado Ar 234 C-3 w/ Ar E381 Julia
Unassembled plastic model kit in 1/72 scale of a German WWII jet bomber aircraft Arado Ar 234, the first world jet powered operative bomber aircraft introduced during late WWII (September 1944) and produced in limited quantities, around 215 aircrafts in several types.
Mostly used as reconnaissance plane, it also was tested as bomber and proved to me almost impossible to intercept by Allied fighter aircrafts of the era.
C-3 variant was a multipurpose version, was fitted with two 20 mm MG 151/20 cannons in the nose.
Kit also includes an Arado E.381 parasite fighter, to be launched and used as interceptor from a mother Ar 234. This small rocket powered interceptor never was flown, only few unmanned wooden airframes were built. This proposal had a really small fuel range as well as ammunition, only about 45-60 or 30mm rounds. There was a proposal also armed with rocket launchers. Pilot was in prone position (to better deal with the powerful G-Forces).
Kit uses Dragon Models plastic parts from Dragon – 9005 – Ar234C w/ArE381 Julia fitted with new decal sheet (2 markings) printed by Cartograf.
MARKETPLACE
You are currently browsing offers for
United States. Choose your country from location/language menu to get proper results for you. If your country is not in the list try default EN-U.S. or try the closest location if any.
This site contains affiliate links to products. We may receive a commission for purchases made through these links.
NEW! Hobby 2000 72051 Arado Ar 234 C-3 w/ Ar E381 Julia
See on Super Hobby »
From: PL
Seller: Super Hobby
Stock: In Stock
Hobby 2000 72051 Arado Ar 234 C-3 w/ Ar E381 Julia 1/72 (Dragon)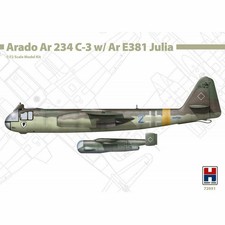 See on Ebay »
Shipping to: US
From: PL
Seller: martinlcracow
100.0% Positive votes
*Information on price and shipping may have changed since our last update as well as other conditions can apply.
Check on partner site before buy.