KT-104/PERUN Hanged Man Rematch Ver.
Armored Core V
Unassembled plastic model kit in 1/72 scale of a Fantasy & Sci-fi subject based on Armored Core video game franchise universe.
Plastic parts are pre-coloured and once assembled model is poseable. Kit is in the 400-600 parts range, with about 30 articulable points. 180mm height once built.
MARKTPLATZ
Diese Website enthält Affiliate-Links zu Produkten. Wir erhalten möglicherweise eine Provision für Einkäufe, die über diese Links getätigt werden.
Neue Kotobukiya Armored corev kt-104/gehärtetes erhängt Mann Revanche 1/72 Maßstab Modell Ki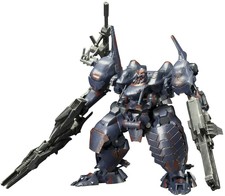 See on Ebay »
Shipping to: Germany
From: Japan
Seller: jp-distribution
96.6% Positive votes
* Informationen zu Preis und Versand haben sich möglicherweise seit unserem letzten Update geändert, und es können andere Bedingungen gelten.
Überprüfen Sie vor dem Kauf auf der Partnerseite.