Dougram Ver. GT
Unassembled plastic model kit in 1/72 scale, inspired in the Fang of the Sun Dougram anime series, upgraded Dougram kit as it appears on the Get Truth Fang of the Sun Dougram anime comic. Kit includes new parts, all is snap-fit and no glue is required for assembling. Once built, kit is poseable.
Includes Turbo Pack, Linear Cannon, Linear Gun and Missile Pod parts.
Same kit, with less extra parts, was released together with the Comic in an special edition in late 2021.
MARKTPLATZ
Diese Website enthält Affiliate-Links zu Produkten. Wir erhalten möglicherweise eine Provision für Einkäufe, die über diese Links getätigt werden.
1/72 COMBAT ARMORS MAX27: Dougram Ver. GT
See on Hlj.com »
Von: Japan
Verkäufer: Hlj.com
Stock: Discontinued
Max Factory 1/72 Dougram Ver.GT Nr. 726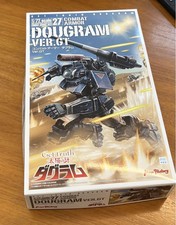 Siehe bei Ebay.de »
Versand nach: Germany
Von: Japan
Verkäufer: pretaporter_chin_jp
92.2% Positive Stimmen
* Informationen zu Preis und Versand haben sich möglicherweise seit unserem letzten Update geändert, und es können andere Bedingungen gelten.
Überprüfen Sie vor dem Kauf auf der Partnerseite.