Russian Jägers in Winter Dress
Napoleonic
Unpainted plastic soldiers in 1/72 scale depicting Russian Jaegers (Light Infantry) in Winter Dress infantry during the Napoleonic Wars period.
Box contains 44 figures, organized in "4 equal sprues" with ten figures each and a separated command sprue with 4 unique figures. We quoted the 4 equal sprues because the command figures are attached to an extended variant of the main sprue.
Figures are well sculpted and detailed and complements previous releases such the Strelets – 288 – Russian Jaegers in Summer Dress or the Red Box – 72132 – Russian Light Infantry (Jagers) Napoleonic Wars 1805-1808. The Russian Napoleonic range, as deserves, is one of the best covered ones.
MARKTPLATZ
Diese Website enthält Affiliate-Links zu Produkten. Wir erhalten möglicherweise eine Provision für Einkäufe, die über diese Links getätigt werden.
GANZ NEU 1:72 Strelets #289 Napoleon Rußland Jäger Winter Mantel Kampf Soldaten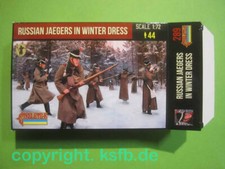 Siehe bei Ebay.de »
Versand nach: Germany
Von: Germany
Verkäufer: kunststoffboerse-2020
100.0% Positive Stimmen
STR 289 Russian Jaegers in Winter Dress
See on Hobby.dn.ua »
Von: Ukraine
Verkäufer: Hobby.dn.ua
Stock: PreOrder
* Informationen zu Preis und Versand haben sich möglicherweise seit unserem letzten Update geändert, und es können andere Bedingungen gelten.
Überprüfen Sie vor dem Kauf auf der Partnerseite.