UH-12B / OH-23B Raven
(Korean War, French AF, Swiss AF)
Unassembled plastic model kit in 1/72 scale of a Hiller OH-23 Raven light utility helicopter introduced in 1948 and quite widely adopted for both military and civilian service by several nations.
OH-23B was a designation given in 1962 to those H-23B which have an improved engine up to 250 hp. H-23B variant was similar to H-23A initial production version but fitted with skid/wheel undercarriage. Around 273 H-23B were built for the U.S. Army and around 80 for export market which included the French Air Forces and others.
Raven served as a utility, observation, and MedEvac helicopter during the Korean War and later B variant was used as primary helicopter trainer for years.
Kit consists of 69 plastic parts including canopy clear plastic parts. Decal sheet with three markings, U.S. Army at Korean War, French and Swiss air forces.
MARKTPLATZ
Diese Website enthält Affiliate-Links zu Produkten. Wir erhalten möglicherweise eine Provision für Einkäufe, die über diese Links getätigt werden.
LF Models LF-PE7252
See on Hannants »
Von: United Kingdom
Verkäufer: Hannants
Stock: InStock
LF Modelle 1/72, Hiller UH-12B/OH-23B, Frankreich, Holland, Bausatz, PE7254, Neu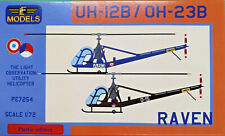 See on Ebay »
Shipping to: Germany
From: United States
Seller: hliman
100.0% Positive votes
LF Models PE7252 Hiller UH-12B / OH-23B Raven Korean war, French AF, Swiss AF
See on Super Hobby »
Von: Poland
Verkäufer: Super Hobby
Stock: Preorder
* Informationen zu Preis und Versand haben sich möglicherweise seit unserem letzten Update geändert, und es können andere Bedingungen gelten.
Überprüfen Sie vor dem Kauf auf der Partnerseite.