AH-1G Pale Rider
This kit a re-tooled Matchbox mould for the same topic. Is unclear to us if Mastercraft who originally released the set used licensed Matchbox moulds or just cloned them.
Kit present some amount of flash in some parts, mould line is visible in almost all the parts and may need cleaning. It share the good and bad of the original, too engraved panel lines but well engineered parts and easy to build.
Kit includes decals sheet for two version. Quality of decals is good, paper is very good, and it includes several technical stencils. Instructions sheet is also properly organized and quality printed, being easy to follow which always is something to thanks for.
The same comments apply to all the AH-1 Cobra kits released by Mistercraft, you can find some of them in the related kits section below.
MARKTPLATZ
Diese Website enthält Affiliate-Links zu Produkten. Wir erhalten möglicherweise eine Provision für Einkäufe, die über diese Links getätigt werden.
AH-1G Pale Raider · Mistercraft · Maßstab 1:72
See on Modellbau Universe »
Von: Germany
Verkäufer: Modellbau Universe
Stock: zur Zeit nicht lieferbar
Hubschrauber AH-1G "Pale Rider" # Maßstab 1:72 # MISTERCRAFT B-02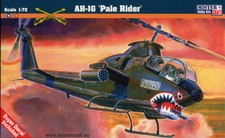 See on Ebay »
Shipping to: Germany
From: Poland
Seller: a4y-trade
99.8% Positive votes
* Informationen zu Preis und Versand haben sich möglicherweise seit unserem letzten Update geändert, und es können andere Bedingungen gelten.
Überprüfen Sie vor dem Kauf auf der Partnerseite.