Avia B.534 IV. serie
Weekend Edition
Unassembled plastic model kit in 1/72 scale of a Czechoslovak biplane fighter Avia B-534 introduced in mid. 30s.
Series IV is clearly distinguishable of the precedent designs because introduced a closed cockpit.
Kit includes decal sheet with two markings, one Czechoslovak and one Bulgarian. Weekend Edition does not include any kind of extra detail like PE parts.
Markings:
B.534.187, Air Regiment No. 4, 40th Flight, Prague – Kbely, April 1938
Dogan No. 31, 2/2 Orlyak, Vrazhdebna airfield, Bulgaria, November 1944
OFERTAS
Este sitio contiene enlaces de afiliados a productos. Podemos recibir una comisión por las compras realizadas a través de estos enlaces.
EDUSS518 1:72 Eduard Color Zoom PE - Avia B.534 Serie Iv Fin de semana (kit EDU)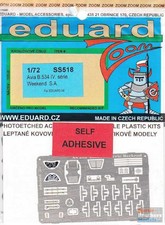 Ver en Ebay.es »
Enviando a: Spain
Desde: United States
Vendedor: spruebrothers
99.9% Votos positivos
Maquette Avion Avia B.534 Iv. Serie Eduard 7428 1/72ème Maquette Char Promo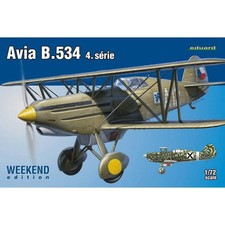 Ver en Ebay.es »
Enviando a: Spain
Desde: France
Vendedor: maquettecharpromo-21
99.3% Votos positivos
*La información de precio y envío podría haber cambiado desde la última que actualizamos los datos y otras condiciones pueden aplicar.
Comprueba la información en el sitio asociado antes de comprar.