PZL W-3A Sokół
TOPR Rescue Helicopter
Unassembled plastic model kit in 1/72 scale of a Polish utility helicopter PZL W-3 Sokół, the first helicopter totally designed and produced in Poland. W-3A variant is a both civil and military variant, transport type with several units modified to search and rescue service or medical emergency services.
Tooled and released in 2022.
Kit consists of 198 plastic parts plus PE detail parts. Decal sheet includes two markings, TOPR rescue helicopter (Tatra Volunteer Search and Rescue, a non-profit mountain rescue association from Poland) and LPR (Lotnicze Pogotowie Ratunkowe, Polish air ambulances or Polish Medical Air Rescue) medical helicopter.
This is a highly detailed kit with a large number of parts and a large number of photo-etched detail parts. Kit is not recommended for beginners.
Marché
Ce site contient des liens d'affiliation vers des produits. Nous pouvons recevoir une commission pour les achats effectués par le biais de ces liens.
Answer AA72002 PZL W-3A Sokol (Falcon) TOPR 1/72 plastic kit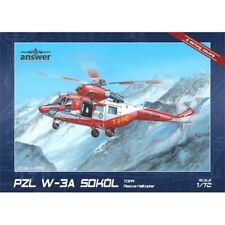 Voir sur Ebay.fr »
Expédition vers: France
De: Poland
Vendeur: scalemodels_4you
99.9% Votes positifs
PZL W-3 A SOKOL MEDEVAC (POLONAIS GOPR & LPR MKGS) #72002 1/72 RÉPONSE FLAMBANT NEUF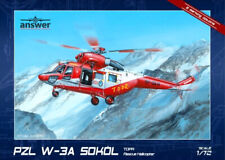 Voir sur Ebay.fr »
Expédition vers: France
De: Poland
Vendeur: trinitymews2
99.8% Votes positifs
*Les informations sur le prix et l'expédition peuvent avoir changé depuis notre dernière mise à jour ainsi que d'autres conditions peuvent s'appliquer.
Vérifiez sur le site partenaire avant d'acheter.