Cromwell's Cavalry


While some nice and good sets can be found in this scale to cover the English Civil War, till now, no one depicted this famous cavalry, commonly know as Cromwell's Ironsides.
The box offer us 12 mounted figures in 4 different poses, and two horse poses. Well, it's better than nothing, but it's a bit limited. You have an arm option for one figure, allowing you to choose between a flag or trumpeter, but in best case, in 12 figures you will have 2 trumpeter & 2 flags.
Anyway is a very interesting set, and it cover one of our favourites periods.
Marché
Ce site contient des liens d'affiliation vers des produits. Nous pouvons recevoir une commission pour les achats effectués par le biais de ces liens.
Waterloo 1815 WLAP033
See on Hannants »
De: United Kingdom
Vendeur: Hannants
Stock: InStock
Waterloo 1815 Historical Mini 1/72 Cromwell's Cavalry New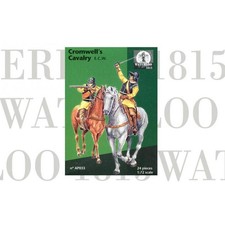 See on Ebay »
Shipping to: France
From: United States
Seller: nobleknightgames
99.8% Positive votes
*Les informations sur le prix et l'expédition peuvent avoir changé depuis notre dernière mise à jour ainsi que d'autres conditions peuvent s'appliquer.
Vérifiez sur le site partenaire avant d'acheter.