The Army of Pyrrhus of Epirus
INFANTRY ALLIES / MERCENARIES Set 2
Unpainted plastic soldiers in 1/72 scale, depicting, as the very descriptive title by the brand already tell us, mercenary or allies infantry of the army of Pyrrhus of Epirus, during the so called Pyrrhic War, 280-275 BC., which was a conflict between Republican Roman and Epirus, an ancient Greek state settled in today northwest Greece and Albania. During this war Epirus achieved some initial victories at the cost of heavy casualties, and while Rome could refill their legions Pirus had more problems to recruit more allies or troops. At the end of the campaign Rome asserted its hegemony over southern Italy and the Hellenistic world started to pay attention to this growing Italian state.
This was was also the first time Rome faced Greek professional mercenaries and such men are depicted in this set.
Box contains 48 foot figures in 12 different poses.
MARKTPLATZ
Diese Website enthält Affiliate-Links zu Produkten. Wir erhalten möglicherweise eine Provision für Einkäufe, die über diese Links getätigt werden.
Linear-A 045 1:72 The Army of Phyrrus of Epirus Infantry Allies NEU OCP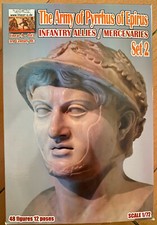 Siehe bei Ebay.de »
Versand nach: Germany
Von: Germany
Verkäufer: sime-6323
100.0% Positive Stimmen
Linear-A LA045
See on Hannants »
Von: United Kingdom
Verkäufer: Hannants
Stock: InStock
Linear-A 1/72 The Army of Pyrrhus of Epirus Infantry Allies / Mercenaries Set 2 3rd Century BC # 045
See on eModels »
Von: United Kingdom
Verkäufer: eModels
Stock: In Stock
* Informationen zu Preis und Versand haben sich möglicherweise seit unserem letzten Update geändert, und es können andere Bedingungen gelten.
Überprüfen Sie vor dem Kauf auf der Partnerseite.