AMX 13 Bi-tubes
Unassembled plastic model kit in 1/72 scale of a French SPAAG (Self propelled anti aircraft gun) AMX-13 DCA 30, build over the chassis of an AMX 13 tank, 60 units were produced of this type in 1969.
Re-using chassis and hull from kit Heller – 198 (79874) – AMX13 105mm, with new parts for a new turret, fitted with two 30mm cannons and a retractable radar.
This kit was released in 1979, the AMX Parts were produced in 1976, they both are original Heller kits. While AMX 13 has been released several times, the DCA 30 SPAAG has not been re-issued never and is a rare to find kit.
With better detail, ACE produced both ACE – 72447 – AMX-13 DCA twin 30mm AA version and ACE – 72445 – AMX-13/75 light tank.
MARKTPLATZ
Diese Website enthält Affiliate-Links zu Produkten. Wir erhalten möglicherweise eine Provision für Einkäufe, die über diese Links getätigt werden.
Heller 192 AMX 13 Bi-Tubes 1:72 Neu, Bauteile versiegelt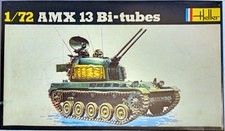 See on Ebay »
Shipping to: Germany
From: Germany
Seller: modellbauer-inn
100.0% Positive votes
* Informationen zu Preis und Versand haben sich möglicherweise seit unserem letzten Update geändert, und es können andere Bedingungen gelten.
Überprüfen Sie vor dem Kauf auf der Partnerseite.