Air Combat WWII Battle Set
Model set in 1/72 scale focused on Eastern Front air combat, re-using previous released models.
Box contains 5 full aircraft models, plus 2 figures boxes.
The figure kits are:
Zvezda – 6188 – German air force ground crew
Zvezda – 6187 – Soviet air force ground crew
Both of them consisting of 5 different figures and some accessories.
The model kits are:
Zvezda – 7304 – German fighter Focke-Wulf FW-190 A4
Zvezda – 7302 – German fighter Messerschmitt Bf-109 F2
2 x Zvezda – 7301 – Yak-3 Soviet Fighter (One of them seems to wear Yak-3 Normandie schema, which would mean new decals, but it's unconfirmed)
Zvezda – 7306 – German dive bomber JU-87B2 "Stuka"
Mercato
Questo sito contiene link di affiliazione ai prodotti. Potremmo ricevere una commissione per gli acquisti effettuati attraverso questi link.
Zvezda 5205 Air Combat SECONDA GUERRA MONDIALE (Bf 109, Ju 87, Fw 190, 2x Yak 3, Fig.), 1:72, TOP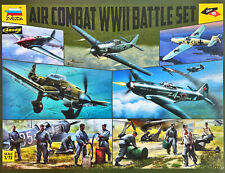 See on Ebay »
Shipping to: Italy
Bids:0
Da: Germany
Seller: oscar_echo
100.0% Positive votes
*Le informazioni sul prezzo e sulla spedizione potrebbero essere cambiate dall'ultimo aggiornamento e possono essere applicate altre condizioni.
Controlla sul sito del partner prima dell'acquisto.