Air Combat WWII Battle Set
Model set in 1/72 scale focused on Eastern Front air combat, re-using previous released models.
Box contains 5 full aircraft models, plus 2 figures boxes.
The figure kits are:
Zvezda – 6188 – German air force ground crew
Zvezda – 6187 – Soviet air force ground crew
Both of them consisting of 5 different figures and some accessories.
The model kits are:
Zvezda – 7304 – German fighter Focke-Wulf FW-190 A4
Zvezda – 7302 – German fighter Messerschmitt Bf-109 F2
2 x Zvezda – 7301 – Yak-3 Soviet Fighter (One of them seems to wear Yak-3 Normandie schema, which would mean new decals, but it's unconfirmed)
Zvezda – 7306 – German dive bomber JU-87B2 "Stuka"
Markt
Deze site bevat affiliatie links naar producten. We kunnen een commissie ontvangen voor aankopen die via deze links zijn gedaan.
Zvezda 5205 Air Combat WWII (Bf 109, Ju 87, Fw 190, 2x Yak 3, Fig.), 1:72, TOP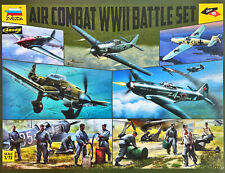 Zie op Ebay.nl »
Verzending naar: Netherlands
Biedingen:0
Van: Germany
Verkoper: oscar_echo
100.0% Positieve stemmen
*Informatie over prijs en verzending kan zijn gewijzigd sinds onze laatste update en andere voorwaarden kunnen van toepassing zijn.
Controleer op de partnersite voordat u koopt.