Bavarian Infantry Firing Line
Napoleonic
Unpainted plastic soldiers in 1/72 scale depicting Bavarian infantry during the Napoleonic Wars period.
Box contains 43 figures in 19 different poses. Box is composed of four sprues, three equal with 12 figures each to compose the main part of the firing line, in a mix of firing, reloading (at different stages) and aiming figures. The fourth sprue includes 7 unique figures, including wounded and command figures.
Figures are nicely sculpted and well detailed, a nice complement to extend the Bavarian range for the period.
MARKTPLATZ
Diese Website enthält Affiliate-Links zu Produkten. Wir erhalten möglicherweise eine Provision für Einkäufe, die über diese Links getätigt werden.
BRAND NEU 1:72 Strelets #273 Napoleon Bayern Infanterie Schützen Linie Bavaria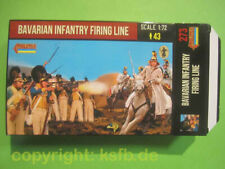 Siehe bei Ebay.de »
Versand nach: Germany
Von: Germany
Verkäufer: kunststoffboerse-2020
100.0% Positive Stimmen
STR 273 Bavarian Infantry Firing Line
See on Hobby.dn.ua »
Von: Ukraine
Verkäufer: Hobby.dn.ua
Stock: PreOrder
* Informationen zu Preis und Versand haben sich möglicherweise seit unserem letzten Update geändert, und es können andere Bedingungen gelten.
Überprüfen Sie vor dem Kauf auf der Partnerseite.