Bavarian Infantry Firing Line
Napoleonic
Unpainted plastic soldiers in 1/72 scale depicting Bavarian infantry during the Napoleonic Wars period.
Box contains 43 figures in 19 different poses. Box is composed of four sprues, three equal with 12 figures each to compose the main part of the firing line, in a mix of firing, reloading (at different stages) and aiming figures. The fourth sprue includes 7 unique figures, including wounded and command figures.
Figures are nicely sculpted and well detailed, a nice complement to extend the Bavarian range for the period.
Markt
Deze site bevat affiliatie links naar producten. We kunnen een commissie ontvangen voor aankopen die via deze links zijn gedaan.
STRELETS Miniatures 1/72 – 273 Bavarian Infantry Firing Line - Napoleonic Wars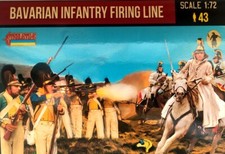 Zie op Ebay.nl »
Verzending naar: Netherlands
Van: Italy
Verkoper: giamboneto
99.8% Positieve stemmen
BRAND NEU 1:72 Strelets #273 Napoleon Bayern Infanterie Schützen Linie Bavaria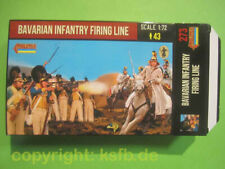 Zie op Ebay.nl »
Verzending naar: Netherlands
Van: Germany
Verkoper: kunststoffboerse-2020
100.0% Positieve stemmen
STR 273 Bavarian Infantry Firing Line
See on Hobby.dn.ua »
Van: Ukraine
Verkoper: Hobby.dn.ua
Stock: PreOrder
*Informatie over prijs en verzending kan zijn gewijzigd sinds onze laatste update en andere voorwaarden kunnen van toepassing zijn.
Controleer op de partnersite voordat u koopt.