Bavarian Infantry Firing Line
Napoleonic
Unpainted plastic soldiers in 1/72 scale depicting Bavarian infantry during the Napoleonic Wars period.
Box contains 43 figures in 19 different poses. Box is composed of four sprues, three equal with 12 figures each to compose the main part of the firing line, in a mix of firing, reloading (at different stages) and aiming figures. The fourth sprue includes 7 unique figures, including wounded and command figures.
Figures are nicely sculpted and well detailed, a nice complement to extend the Bavarian range for the period.
OFERTAS
Este sitio contiene enlaces de afiliados a productos. Podemos recibir una comisión por las compras realizadas a través de estos enlaces.
STRELETS Miniatures 1/72 – 273 Bavarian Infantry Firing Line - Napoleonic Wars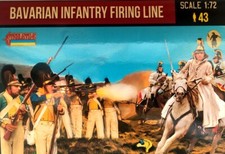 Ver en Ebay.es »
Enviando a: Spain
Desde: Italy
Vendedor: giamboneto
99.8% Votos positivos
NUEVO 1:72 Strelets #273 Napoleón Baviera infantería tiradores línea Baviera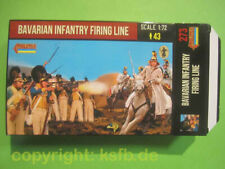 Ver en Ebay.es »
Enviando a: Spain
Desde: Germany
Vendedor: kunststoffboerse-2020
100.0% Votos positivos
STR 273 Bavarian Infantry Firing Line
See on Hobby.dn.ua »
Desde: Ukraine
Vendedor: Hobby.dn.ua
Stock: PreOrder
*La información de precio y envío podría haber cambiado desde la última que actualizamos los datos y otras condiciones pueden aplicar.
Comprueba la información en el sitio asociado antes de comprar.