The Army of Athens Set 1
Peloponnesian War Sicilian Expedition 415-413 BC
Unpainted plastic soldiers in 1/72 scale depicting Athenian hoplites during the Peloponnesian War (431–404 BC), a war between Athens and Sparta and their respective allies, which eventually drove to a Spartan hegemony period after Athens defeat in which the Athens defeat in the so called Sicilian Expedition had an important role.
This box contains 48 foot figures in 12 different poses, each pose in a x4 format. All the figures depicts Athenian hoplites during the Peloponnesian War and though labelled as to be part of the Athens attempt to conquest Syracuse (Sicilian Expedition (415–413 BC)) they can be used elsewhere during the period and even as other Greek troops no only Athenian.
Figures detail and sculpture is excellent.
Markt
Deze site bevat affiliatie links naar producten. We kunnen een commissie ontvangen voor aankopen die via deze links zijn gedaan.
Linear-A LA031
See on Hannants »
Van: United Kingdom
Verkoper: Hannants
Stock: PreOrder
1:72 FIGUREN 031 PELOPONNESIAN WAR, The Army of Athens - LINEAR-A NEU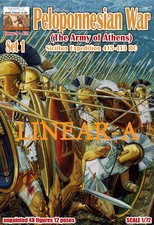 Zie op Ebay.nl »
Verzending naar: Netherlands
Van: Germany
Verkoper: linear-ashop
99.5% Positieve stemmen
*Informatie over prijs en verzending kan zijn gewijzigd sinds onze laatste update en andere voorwaarden kunnen van toepassing zijn.
Controleer op de partnersite voordat u koopt.