Plastic model SU-76I (or sometimes labelled SU-762) contains high quality plastic parts, complemented by a metal gun barrel and resin parts for easy construction. Clear full-colour instruction leads step by step through the construction and also includes full-colour pictures of offered camouflage variants.
SU-76I (and also SU-762) was according to Soviet terminology self-propelled gun, but by its characteristics it was typical tank destroyer. It was built on the chassis of captured German tank PzKpfw III and it was using the same gun as the legendary tank T-34 / 76. Although the basis for its production were captured chassis, it was produced in large quantities -200-300 units built (according to other sources even more than 2000). The AFVs were deployed in battles during the whole year 1943 and winter 1943/44, including the famous Battle of Kursk. The German army considered this version much high valuable than the original tank Panzer III and thus captured several pieces (indicated number has been 4) deployed in the fighting against the Red Army. The Soviet Army released last pieces from the front during the spring of 1944 and transferred them to the training units. Few pieces have been surviving till today in museums and memorials.
Markt
Deze site bevat affiliatie links naar producten. We kunnen een commissie ontvangen voor aankopen die via deze links zijn gedaan.
1/72 SU-76I Soviet Army
See on Hlj.com »
Van: Japan
Verkoper: Hlj.com
Stock: In Stock
Attack AT72890 1/72 WWII Soviet Assault Gun SU76I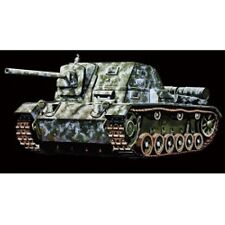 See on Ebay »
Shipping to: Netherlands
From: United States
Seller: smallmilitarymodelsandmore
99.7% Positive votes
*Informatie over prijs en verzending kan zijn gewijzigd sinds onze laatste update en andere voorwaarden kunnen van toepassing zijn.
Controleer op de partnersite voordat u koopt.